Unsafe Worlds!
I have been deleting worlds now because some seem to be unsafe.  Several so far have been and I just deleted them.  I do not know why they were unsafe, but here is a screenshot of one of them so you can see what I'm talking about.  I used the command /mvtp worldname and I have been getting errors like these.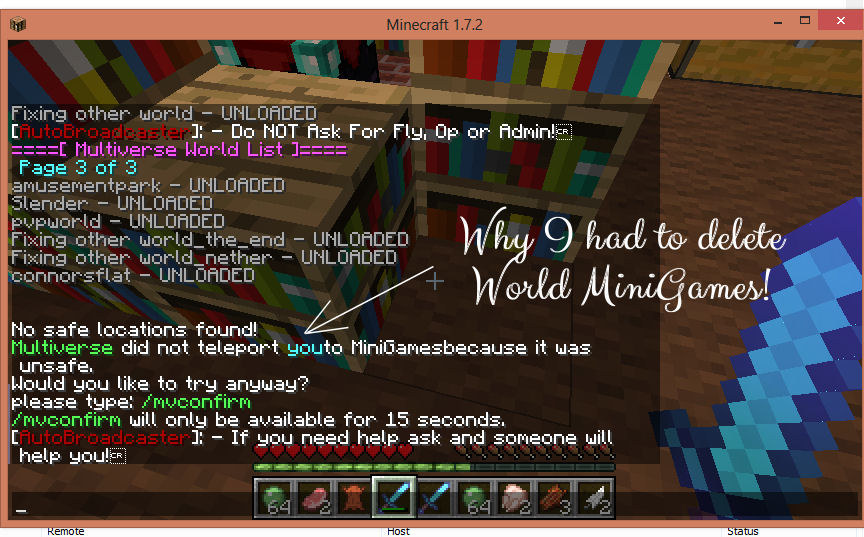 I tried to be as cool as possible and allow people to create things and be opped.  I can't do that now though as I have been advised not to do this.  It creates unknown problems of over spawning, too much usage of worldedit, then chunk errors occur or worlds just become unsafe such as this one above.
I'm doing as much as possible to try and recreate to make the server functionable.  It's taking me sometime, but remember I'm one person and I have to look up a lot of things to do this!
I don't want to hear how you can't do this now or can't do that, because well it's my server, I pay for it and I make the rules.  END of subject.  It's free to play on and have fun!  I'm trying to set it up so there is a plotworld, but some people claimed the plots that were mine where I built spawn.  These people were allowed op and could override what I was doing, this is another reason I removed that option from players.
So I want to have options available for all players after building their house in the plotworld.  Like this:
Plotworld
Factions world
Skywars world
Regular ole survival world where main spawn is
maybe a few more, not sure as of yet.
Bare with me and Remember good things come to those who wait! 🙂 <3 I am hurrying as best I can!!